Anybody who knows me well knows that Jimmy Eat World are my favourite band in the whole world ever. There's no other band where I can have such a big back catalogue and can listen to it all without not wanting to skip any, or with so many songs that I love and really connect with. Until last year I'd never seen them live though.
They played in Norwich in 2010 (I didn't go as I didn't want to go alone), and in 2011 they played two shows in London playing two of my favourite albums (well, favourites now, one of them not so much at the time) back to back in full (which I didn't even know happened until recently), but as they had a new album out in 2013, I had to make sure I saw them. And I did.
I ended up seeing them 4 times.
They were amazing all four times, but just a few highlights...
Fourth song in of the first show, and they played Kill. This is my favourite song ever, I love it, and because of who I was there with, I got kinda emotional hearing it. I didn't even realise they were playing it until the lyrics started as they did a longer intro, but as soon as I realised I just had tears streaming down my face and couldn't even sing along for half of it, and was still drying my face for the next two songs. But that's the sort of moment I'll never forget, realising they're playing your favourite song ever and how amazing it is. They also played Blister which was cool as it's the only one Tom (the other guitarist) does vocals on, and Jim forgot the lyrics to Please Say No, as it was a song off the new album, which was quite funny; "I hate fucking forgetting lyrics". He got it right the second time though. They ended with Goodbye Sky Harbor, which I was a bit meh about at first because I didn't really like the song at the time, but they played a super awesome heavier version of it I'd never heard before and it was a great closer. You can actually download a recording of a recording of this show; it was recorded live and played on US radio, and a guy recorded it off the radio... you can hear some notification sounds or something occasionally but it's still a good recording.
Next one, I had to drive to Birmingham for, on my own; in retrospect, I could probably have managed Norwich on my own after all, but there you go. I had a spare ticket for this one but nobody to go with so it went to waste. It was a bit of a drive but I wanted to see them as much as I could while they were around, and as there's typically 3 or so years between albums, it'd be a while before they were back. I got a little bit lost but got there in the end, got a spot second row back from the front. During Big Casino, the strap on Jim's guitar broke, so he was just holding it with his arms out like "haha fuck this", still singing until he got a new one. I took a few videos of this show (yes, I was one of those annoying people recording it), but to balance it out, even at 6'4" I had someone tall in front of me. You can watch the videos below as a playlist.
I also got another surprise at this show because, as well as adding Your New Aesthetic to the set, which is great live, for the second song of the encore they played 23, which is my third favourite song ever. Jim said "we're gonna play a song from Futures now", and I thought, well they've already done Futures, Work, Kill and Pain, which are the only ones I thought they did from Futures, but then I realised they could do 23, and someone else shouted it out, and from the first note right through the 90-odd second intro, I was just standing there with my jaw dropped, because it was another one I'd always wanted to see live but didn't expect them to play, and just like when they played Kill, something I'll never forget.
When I went to The Forum, I went with an old friend from school who was also a fan and hadn't seen them before, so that was good. They didn't play anything new this time, but at the end when they all came to the front of the stage, I caught the eye of Zach (the drummer) and gave him a thumbs up, and I got one back, and he gestured that he liked my shirt (a special edition shirt from the 2009 Clarity x10 tour). I'd tweeted him a few times and got some replies back, so I think he recognised me, and as he'd just given his drumsticks to people in the crowd, I tweeted him asking if I could get one at the next show to add to the record collection I'd built up. He didn't reply, just favourited it, but I hoped I'd get one.
For the last show (which I had a spare ticket for again, and still didn't have anyone else to go with), I got there early and was right at the front (I wanted to be closer to Jim <3). They dropped Kill which was sad, but added in Polaris from Futures, which was a nice addition; I knew beforehand they'd made this switch though. They also did You Were Good from the latest album, which is a lovely song and my favourite song on the album, so that made up for losing Kill, and was a nice surprise too as I didn't know they'd added that in. Then at the end, I was hoping to get my drumstick; he gave one to someone else in the crowd, and I was a bit worried I wouldn't get one, but I did!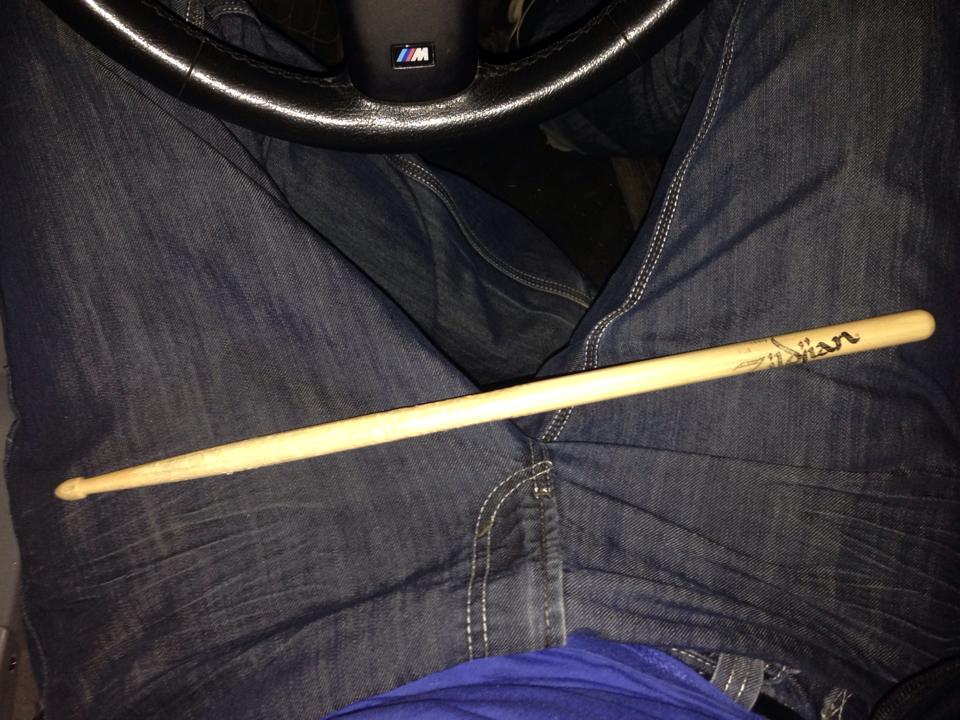 He reached out to hand it to me and everyone else was reaching up trying to grab it and I thought, hmm, this is awkward, but I got it to add to my collection.
Oh, and about that...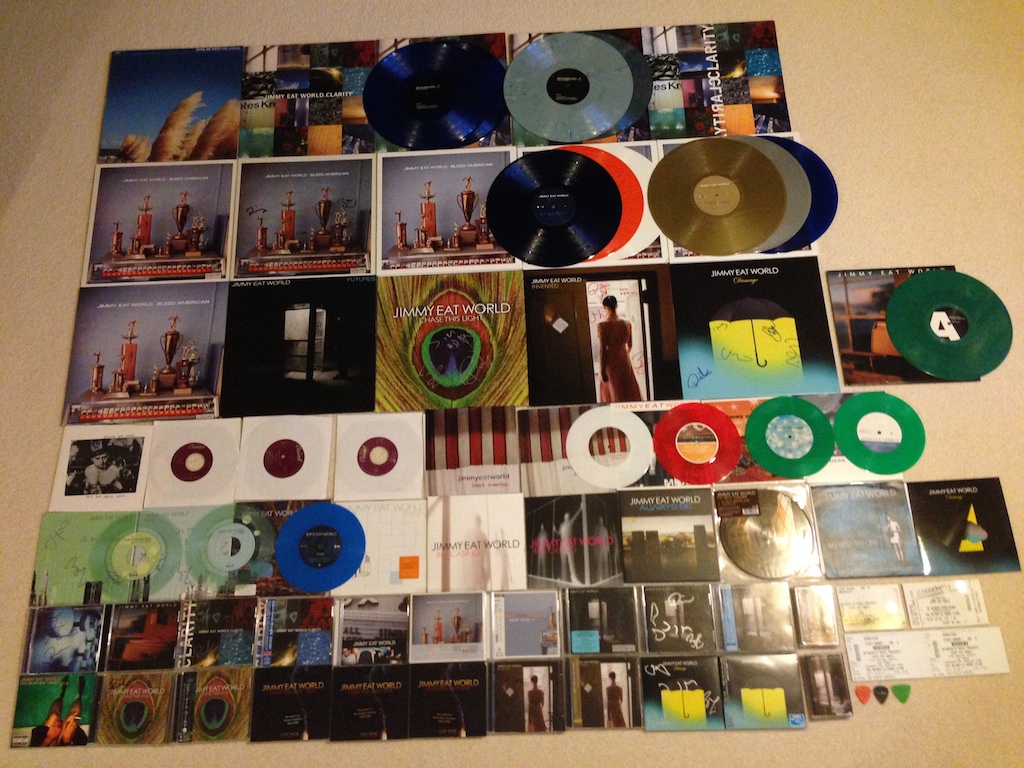 This isn't even complete as I've added to it since, you can see a full list here, but it's essentially all albums and EPs on CD, signed where possible, and Japanese imports where possible, plus any other special editions and promo/advance copies, all 7" singles, and all 12" LPs, including various special editions and some signed copied. There's also a few cassettes (I had to get them) and guitar picks and stuff (got at least one from Jim, Tom and Rick now), and I now also have the drumstick. Oh, and a load of shirts. The only thing I didn't bother with was singles on CD.
I've also got a few things up on my wall now.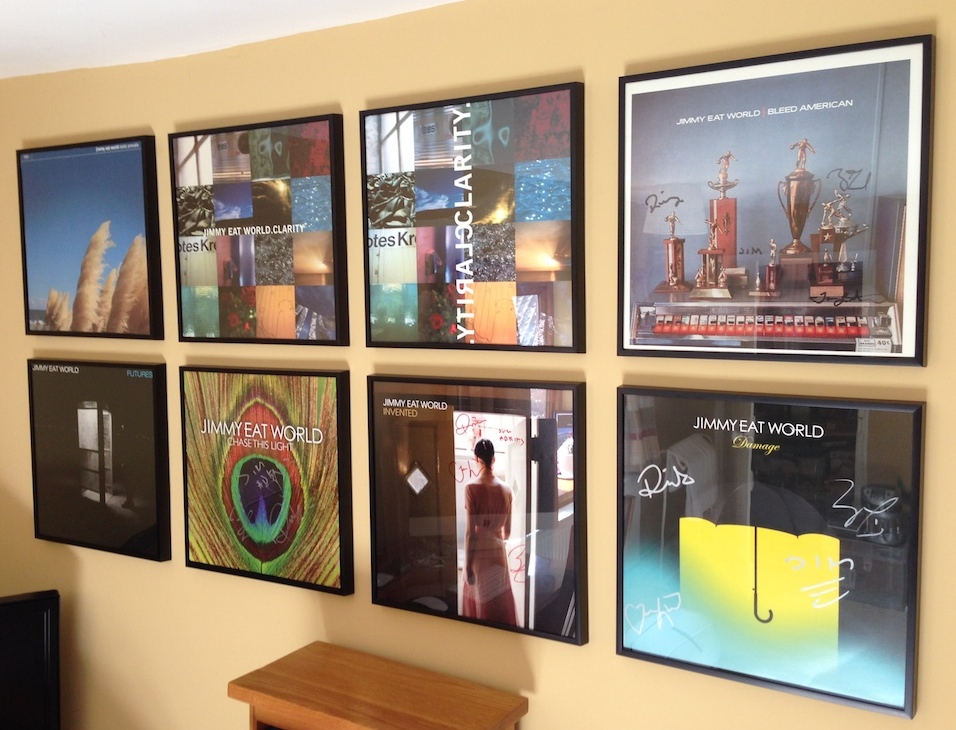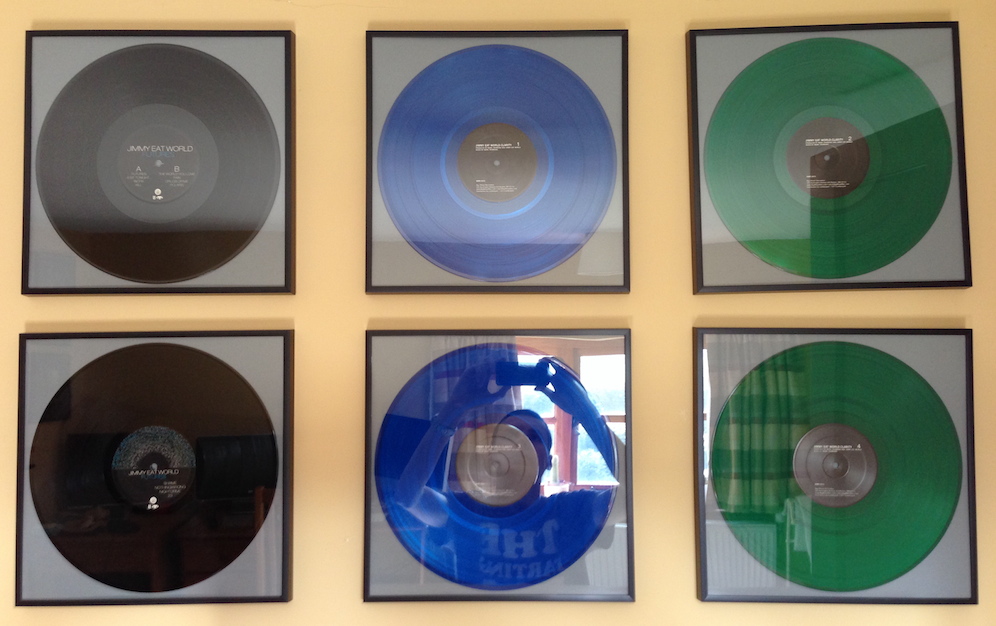 The first photo is all 7 albums released on 12" vinyl, including the reissue of Clarity, and the six records in the second photo are from my 2 favourite albums, Futures and Clarity. Clarity was split onto 2 records as the last song, Goodbye Sky Harbor, has a side all to itself as it's 16:14 long. I've got each of the 4 sides showing here, and the blue and green coloured vinyl are both rare special editions; nobody really seems to know how many of each colour were pressed (and the record label doesn't even exist anymore to ask them), but the best I can gather from archived eBay auctions for them is there were 500 in blue and only 100 in green, so these are pretty rare... plus, you didn't know what colour the vinyl was until you opened it.
So, that's that. I finally got to see them, saw them 4 times in 5 months, and have some extra special memorabilia.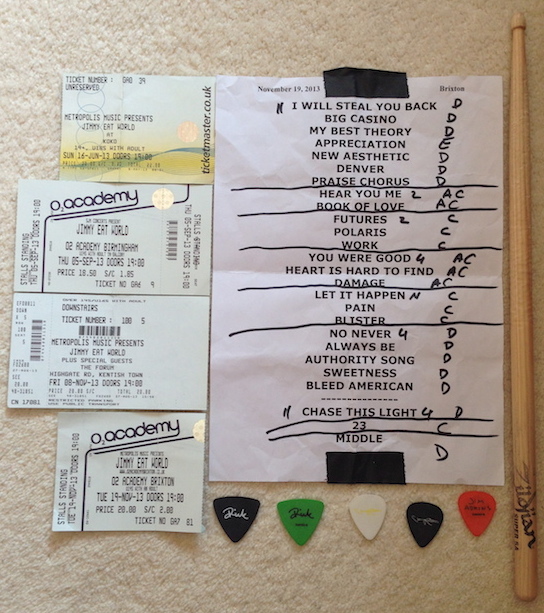 Plus, it's the 10 year anniversary of my favourite album, Futures, this year... hopefully they'll tour for it and play it in full, and hopefully they'll do it here, rather than making me fly to America for it ;)